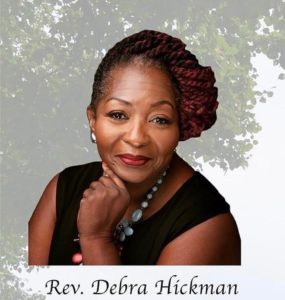 Nowhere can a more appropriate description of the Reverend Debra Hickman be found than on the social media site, LinkedIn.
Motivational speaker and author, Fran Allen called Reverend Hickman a woman of extraordinary substance and unmatched commitment to helping people, creating hope, broadening horizons, and changing lives.
"[Reverend Hickman] is the heart and soul of 'Sisters Together And Reaching, Inc. (STAR)," and her drive, energy, and dedication inspires people she will never know every single day," Allen wrote. "We are better and able to serve our constituency because of her work and willingness to work with us."
Rev. Debra Hickman is Co-Founder/CEO of Sisters Together And Reaching, Inc. (STAR), a Faith/Community Based Non-Profit Organization whose mission is "advocating and providing optimal health, and wellness to the under-served and at-risk minority communities in a holistic, faith centered environment, with a focus on Minority Women. She holds a Master of Divinity from Samuel DeWitt Proctor School of Theology at Virginia Union University.
Rev. Hickman serves as Assistant to the Pastor at City Temple of Baltimore Baptist and currently serves as the Community Co-Chair of the Johns Hopkins Patient Family Advisory Council, Community Co-Chair of the Johns Hopkins Urban Health Institutes Community University Collaborating Committee, Community Co-Chair of the Johns Hopkins Center For AIDS Research and is the Community Co-Chair of the Johns Hopkins Center for Cardiovascular Health Disparities. Her background further includes a forty-eight (48) year history as a Licensed Practical Nurse, 30 years providing direct services and prevention education to the HIV/AIDS community.  She formerly served as a two-time appointee by White House Secretary of Health to serve on the Centers for Disease Control and Prevention/ Health Resources Service Administration Advisory Council (CHAC), Co-Chair and member of the Maryland Community Planning Group (CPG), Baltimore City Mayors HIV Commission and Co-Chair of the University of Maryland HIV Vaccine Trials Network for the Institute of Human Virology. Rev. Hickman is a 2009 Alumni of the Greater Baltimore Leadership Committee, a recipient of the University of Maryland Public Policy Conflict Resolution Fellows, class of 2010. In 2017 she was recognized by the Daily Record as one of Maryland's Top 100 Women.
Rev. Hickman has received numerous awards and recognitions, her proudest Joy is being a Mother 3 outstanding Children in their own Right… Bishop Donte L. Hickman Sr., Kelly M. Woolford, and Randi E. Woods; 4 beautiful Grandchildren; 1 Great-Granddaughter; and an awesome Daughter-In-Law Danielle Hickman.  Her daily mantra is to be "Forward Focused and not Past Possessed.